Development of applications for transport to order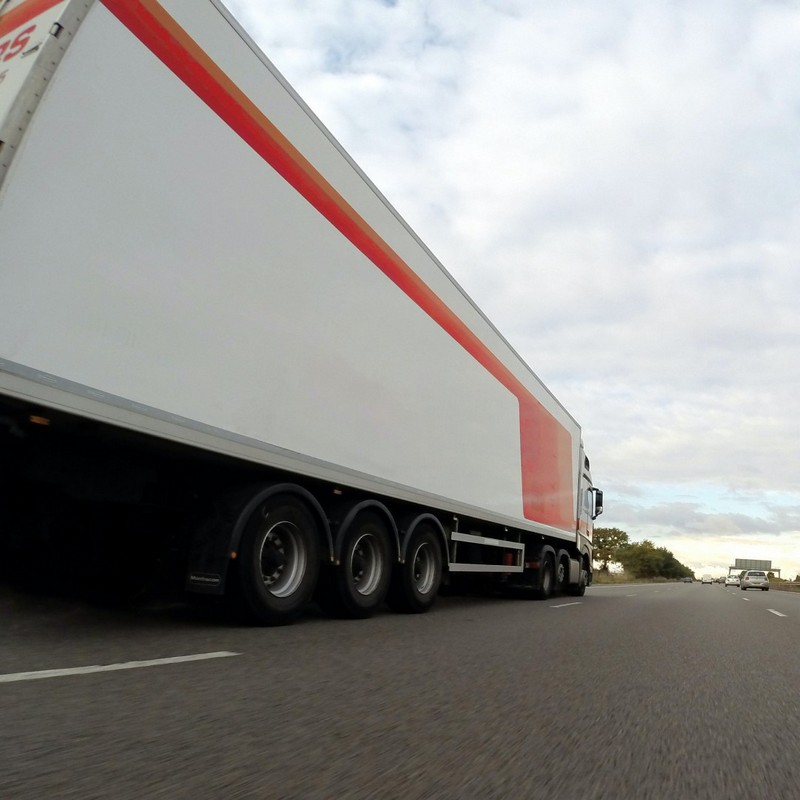 Business in the field of transport is colossal work, with constant communication between customers, contractors, and intermediaries, continuous monitoring, and strict accounting of many operations. We can solve all these tasks with the help of a mobile application.
How we create transport applications:
We analyze the specifics of the company's work, based on which we make a unique product for our client's business.
We combine functionality for all participants in the workflow in one application – for example, drivers, passengers, and administrators. Each of them has its functional panel with the desired access level.
Before starting the development of the project, we approve the terms of reference and sign the contract, so the client receives all the necessary guarantees.
By additional agreement, we provide services for the search promotion of the application, advertising, technical support, and regular release updates.
Types of mobile applications for transport and logistics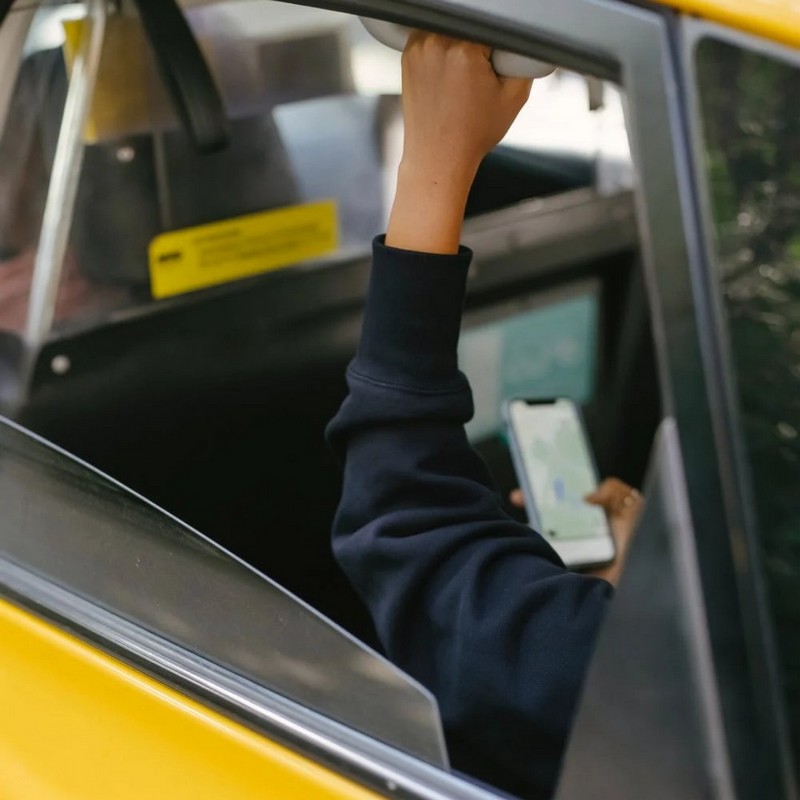 The main goal of creating a mobile taxi application is to fully automate the service's operation. Drivers and passengers register and use the functionality through their accounts. The administrator manages the system using a convenient admin panel.
Options for passengers:
car search, selection of additional characteristics (car class, air conditioning, etc.);
ordering and canceling a trip;
automatic determination of the location of the passenger and the car;
пbuilding a route, automatic price calculation taking into account the discount;
choice of payment method, different forms of online payments;
saving travel history, accumulation of bonuses;
tracking a trip on a map using GPS in real-time;
the opportunity to get acquainted with the driver's rating, and rate, and write a review about the trip;
communication (chat) with the driver in the application, receiving push notifications.
Functionality for drivers:
notifications about new orders, orders with a precise indication of trip conditions;
building an optimal route using a GPS navigator, automatic price calculation;
statistics of trips, income, fines, and bonuses;
communication with the passenger in the application (call or message), determining the location of the passenger.
Features for the administrator:
tracking the location and movement of cars;
history and statistics of active and completed orders;
connection and disconnection of drivers, income statistics;
online user support.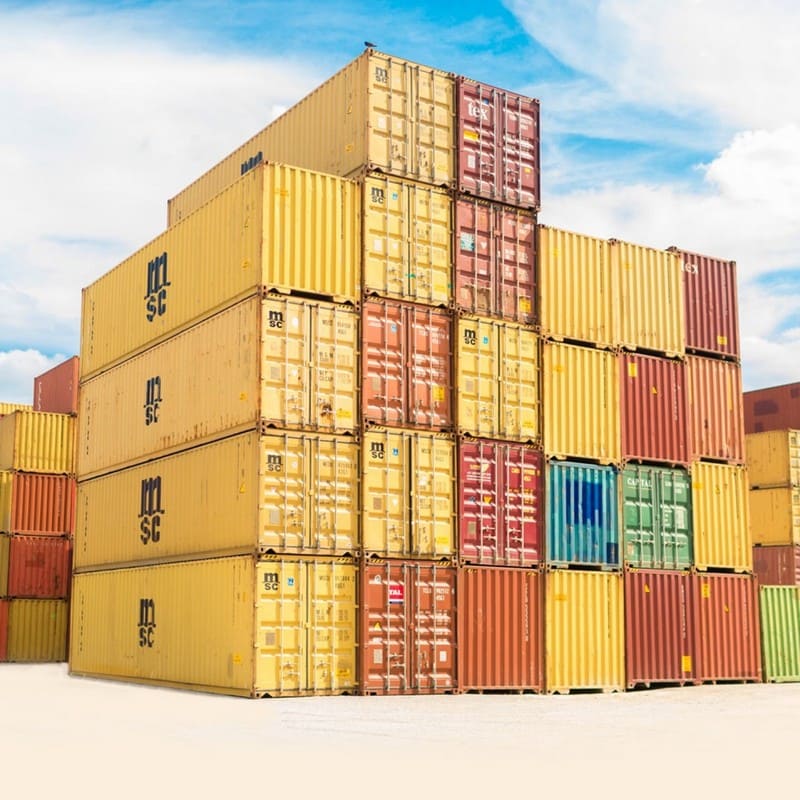 Mobile applications for cargo transportation, delivery, and logistics automate the organization, accounting, control of trips, and movement of goods. Creating an application for cargo transportation solves important practical problems:
cargo tracking in real time;
processing and receiving online orders;
calculation of the cost of services;
order status tracking;
warehouse management;
catalog of cars, schedule, routes, and technical condition;
push notifications for customers and drivers;
navigation, building, and tracking routes;
control of fuel consumption, fixing deviations from the course;
accounting of fines;
control of the maintenance of vehicles;
control of work of couriers, and forwarders;
automation of workflow, the formation of invoices;
management and accounting of the transfer of goods;
providing employees and customers with the necessary reference information;
feedback between all parties – customers, drivers, managers, and administrators.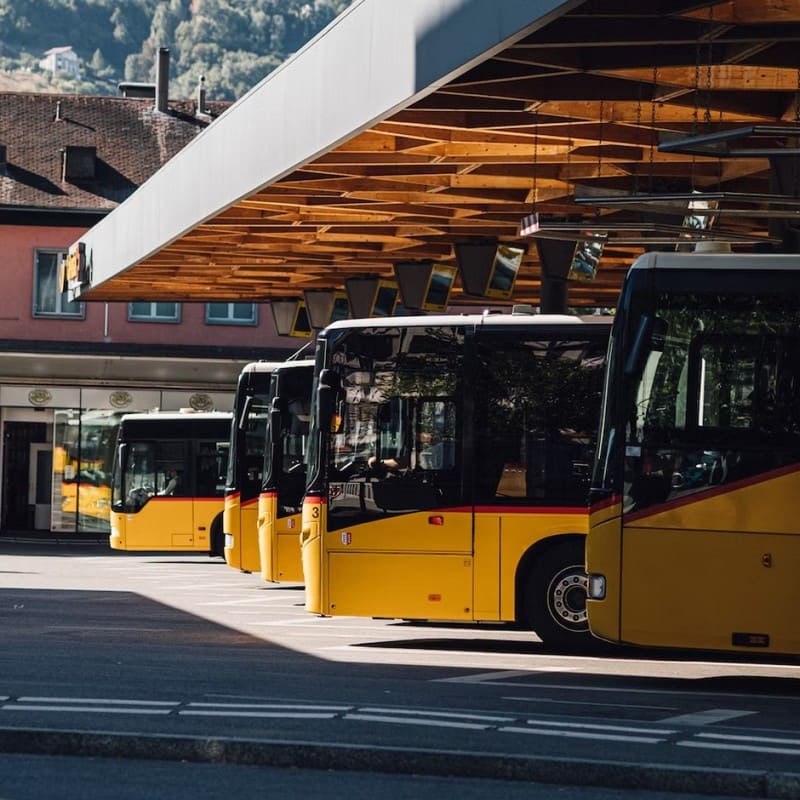 The application for booking passenger transportation can function in two formats:
Booking services of one carrier. Passengers buy tickets and book trips online in the app of a transport company.
Ticket marketplaces. Such applications combine the services of different carriers on one platform.
The functionality of the mobile service for booking trips includes:
route directory, travel schedule;
search by various parameters;
filtering and sorting tickets, route-map;
online seat selection form;
secure online payment form;
automatic generation of online tickets with QR code and receipt;
bonus system, push notifications.
Features of mobile applications for the transport companies

Functionality "all in one"
Users order services, the carrier accepts orders, and the intermediary monitors and controls trips. Several forms are combined into one app:
client's account and driver`s personal account;
admin panel for managing orders, statistics, and tracking trips;
accounts of other employees - dispatchers, logisticians, operators, freight forwarders, etc.

Full process automation
Mobile app helps to automate the work processes of a transport company:
optimal routes;
receiving orders from clients;
taking orders by drivers;
сstatistics on various indicators;
financial statements;
accepting online payments.

Customer loyalty
Customers of any transport company want to place orders online, track their cargo, packages, and trips, and receive quick feedback. With the help of a convenient mobile application, the user always returns to good services, recommends the service to friends, and shares recommendations on social networks. This is a great opportunity for the company:
build a base of loyal customers;
expand the audience;
become more popular and in demand;
and beat competitors.

Reliable company performance
The work of large transport companies is associated with many operational tasks and routine activities. The application as a reliable automation tool allows you to:
establish and optimize work processes;
reduce the workload on employees;
ensure the more accurate setting and execution of tasks;
eliminate the risk of errors due to the human factor;
quickly get out of force majeure situations;
perform a large amount of work with minimal effort;
scale without any obstacles and extra costs;
always have access to statistics on various indicators.
Stages of developing mobile applications for transport
The development of mobile applications for logistics companies, taxis, carriers, and transport tracking is a multi-stage process in which a team of front-end and back-end developers, project managers, designers, and testers works. How we are working:
We analyze competitors and businesses
We analyze the specifics of the business - what the company does, what tasks the application should solve, and what audience requests. We monitor similar products of competitors and find their advantages and disadvantages. We eliminate mistakes and fix successful solutions to make the app better.
We define the functionality and form the project specification
Together with the customer, we think over the functionality of the client part and the admin panel. We fix the detailed structure of the app in the terms of reference and a list of options and available features.
We sign an agreement
After agreeing on the terms of reference, we evaluate the final cost, determine the real development time, conclude an agreement, and start the project work. We develop in accordance with the terms of reference and the terms of the contract.
We develop the interface
We create UX/UI design and provide convenience and ergonomics of the app interface so that any user can quickly understand the application and use all its features. Before programming, we create a prototype for testing a "live" interface.
We do programming
We develop the architecture of the application, and we perform programming. We create an administrative panel and platforms for drivers, passengers, logisticians, traffic controlers, etc.
Testing the product
Before launch, we conduct testing to eliminate failures and errors. The client can order additional services - publication in App Store and/or Play Market, ASO optimization, promotion, advertising and other methods, technical support, and release of updates.
TECHNOLOGIES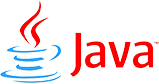 The cost of developing a mobile application for transport
How much does it cost to develop an application for taxi, logistics, and cargo transportation? The price will vary significantly depending on app complexity:

Functional complexity
The development cost depends on what functions will be available to users, and what tasks the application will solve.

Design
Applications for corporate use are made in a minimalistic design, and more expensive interfaces with original design elements are created for commercial projects.

Platform
The price depends on the operating system of the application - iOS, Android, or a hybrid app for cross-platform.

Additional services
At the customer's request, the price can include additional services - promotion, advertising, and technical support.
Order application development
Do you want to develop your business, increase profits,
attract more target audience?
Mobile application will help you achieve these goals!
Order a mobile application for cargo transportation, logistics, and taxi
KitApp studio develops high-quality mobile apps for Ukraine, Europe, USA. You will receive not just a convenient application, but an effective tool for automating the business processes of a transport company.
One app, many features
One application will have several functional panels with different interfaces: for drivers, passengers, operators, administrators, etc. This list we form individually for each project, depending on the work of the transport company. The application is a platform through which customers order services, drivers complete orders, and administrators control and track trips.
Individual solution for your business
We will analyze the features of your company, study business processes, and determine the audience's real needs - and only after that will we form the application's optimal functionality. You will receive a tool that solves the tasks of your business 100%, and you do not have to overpay for extra options.
Favorable development cost
Our pricing policy is loyal and we create high-quality products in a short time. How do we do it? We optimize and properly organize each team member's work and, of course, use the latest solutions in mobile development (technology stack: React Native, React, Node.js).
Development, promotion, and support
We offer our clients professional technical support, advertising, and search promotion. By ordering these services from us, you can be sure of the success of your mobile application.
Scalability
We create products that can be easily scaled, add new functionality, change the structure, and redesign. As your business grows, your mobile application will improve. You can start with minimal functionality, test the app, draw conclusions, and then expand and improve it to fit your business needs.
Take the first step to creating a mobile application - fill out a brief or leave a request for a cost estimate. Our team is open to communication; we are always happy to answer your questions, discuss the project details, and provide professional advice.
Fill in the brief
PORTFOLIO
Looking for another business direction? In KitApp studio, you can order the development of mobile applications for sports, dating, recreation, online sales, education, and many other areas. See examples of our work on our portfolio website.
WHY PEOPLE CHOOSE KITAPP
EXPERIENCE
IN MOBILE DEVELOPMENT SINCE 2014
MORE THAN 50
COMPLETED PROJECTS
Our studio has qualified and experienced developers: project managers, designers, frontend specialists, backend developers, testers. Together we create functional mobile apps for iOS and Android.
TAXI APP COST CALCULATOR
Platform
Choose a development platform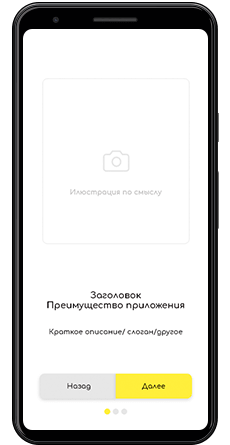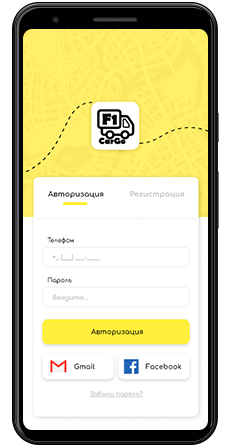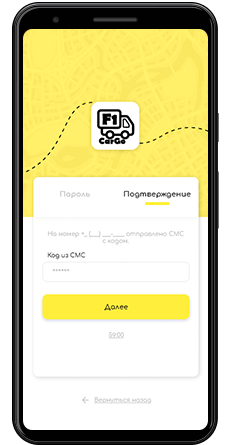 BASIC FUNCTIONAL
The basic functionality of the transport mobile application, as a rule, involves registration and authorization of users. These can be two categories of users – those who provide services and those who plan to use transport services.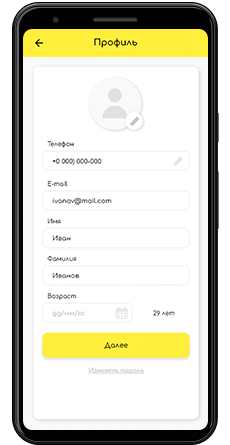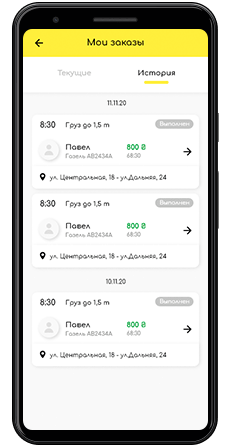 PASSENGER'S PERSONAL CABINET
In applications with a target audience, passengers need a personal account. The basic functionality of the profile consists of the passenger's personal data, including service payment data, trip history.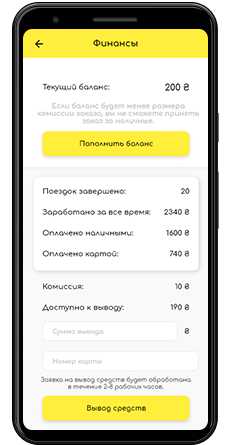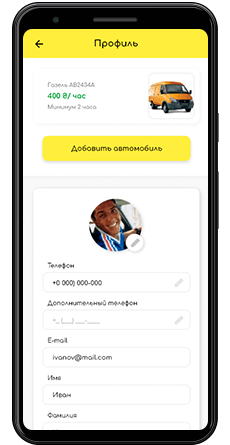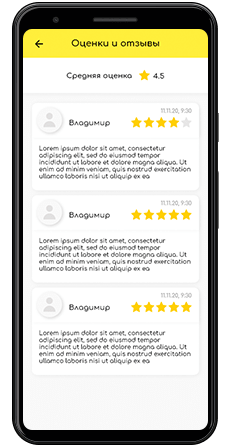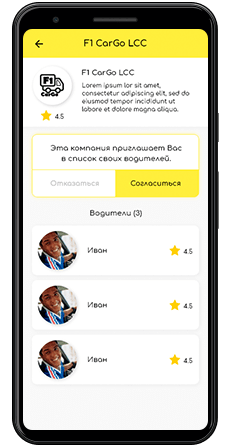 DRIVER'S PERSONAL ACCOUNT
The driver's personal account requires more personal data to participate in the provision of services. In addition to personal information, it should provide information about the car, trips made, payments received.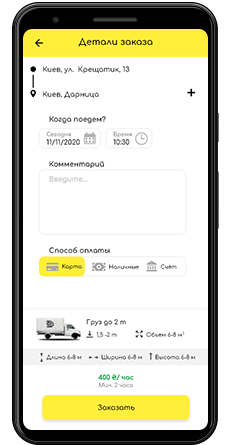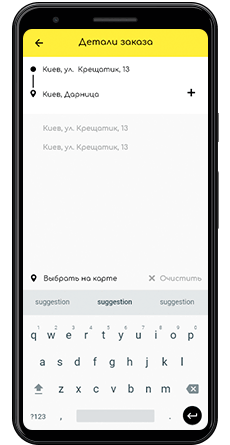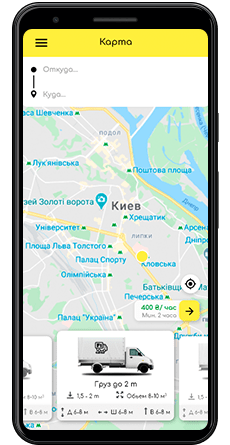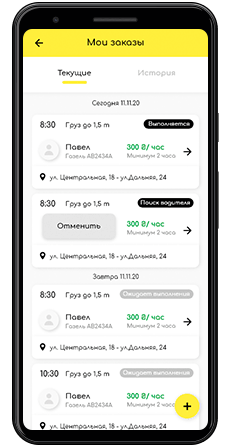 TRIP SEARCH
Passenger form
The ride search functionality for passengers may include various features that will make the use of the application as convenient as possible. Search for a trip by specified criteria, a list of published offers with the ability to view details. A form for booking a trip and canceling is required, choosing a convenient method and terms of payment.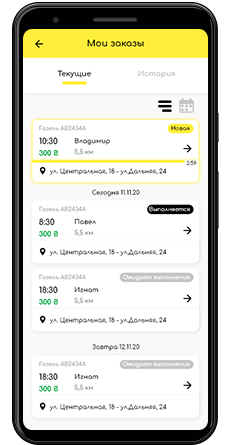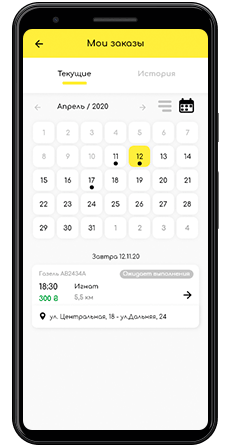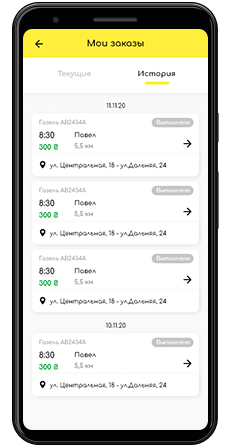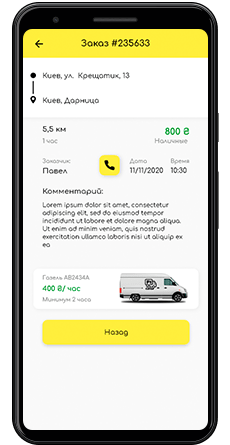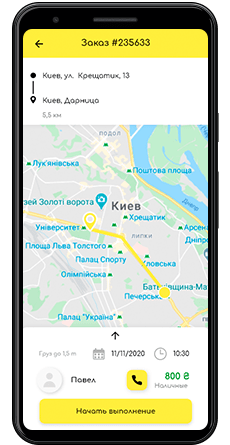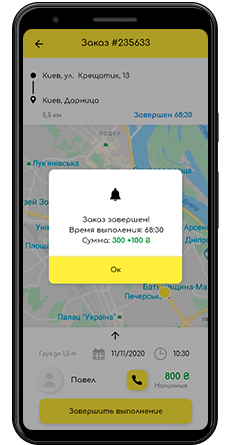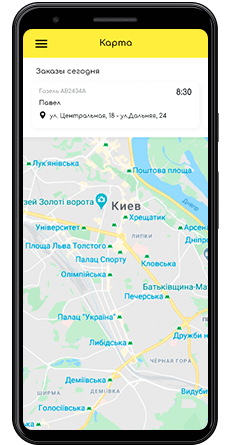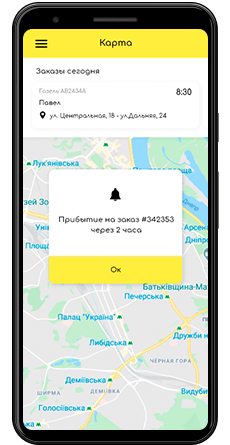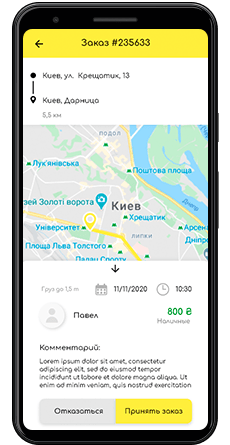 TRIP SEARCH
Driver form
Поиск заказа для водителей должен включать список актуальных поездок, просмотр деталей конкретной заявки, форму выбора и бронирования заказа для выполнения.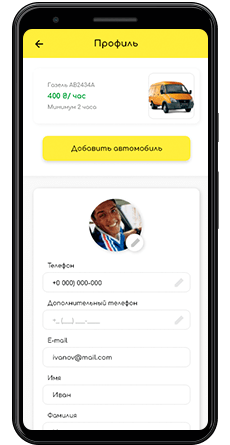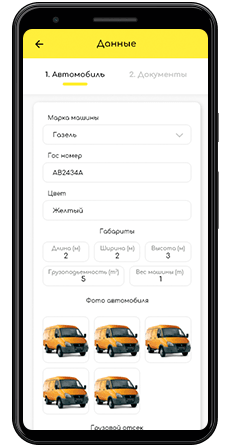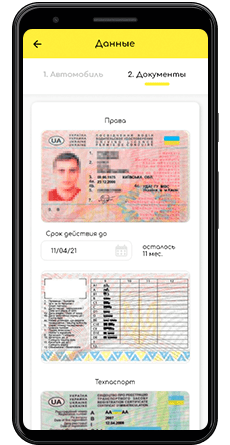 PUBLICATION OF THE TRIP
For drivers
The trip publication includes a large list of data from which you can choose all the features or just the ones you need for your transportation service's mobile app. The more information provided about the trip, the more convenient it will be for passengers to choose what suits them.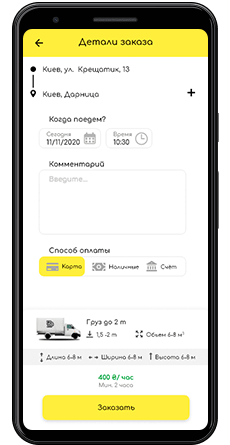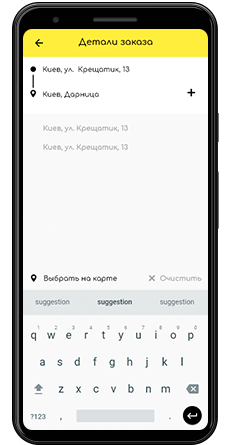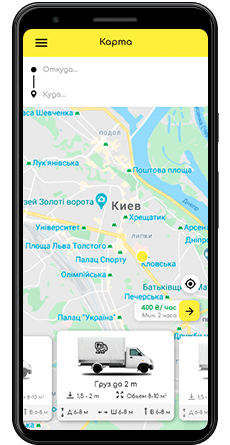 PUBLICATION OF THE TRIP
For passenger
The functionality of publishing a trip by passengers provides for the possibility of filling out an application, editing and publishing it.
ADMINPANEL AND API
To manage the transport services mobile application, you need an administrative panel. In the admin panel, you can manage users, orders, track statistics. If you are using business software, API synchronization with the business and application automation software is required.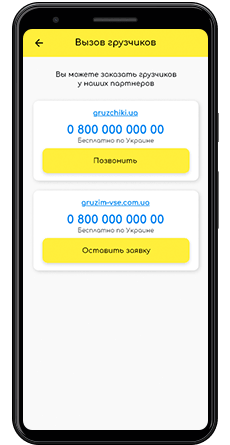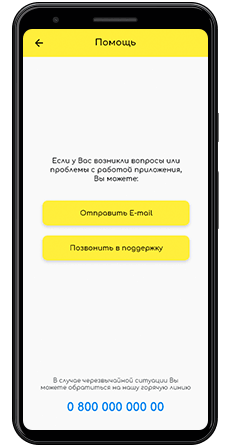 COMMUNICATION
Chat with a manager
High-quality and prompt user support provides for online communication with the project manager/managers. For these purposes, you can use online chat, feedback forms.