Mobile applications for online stores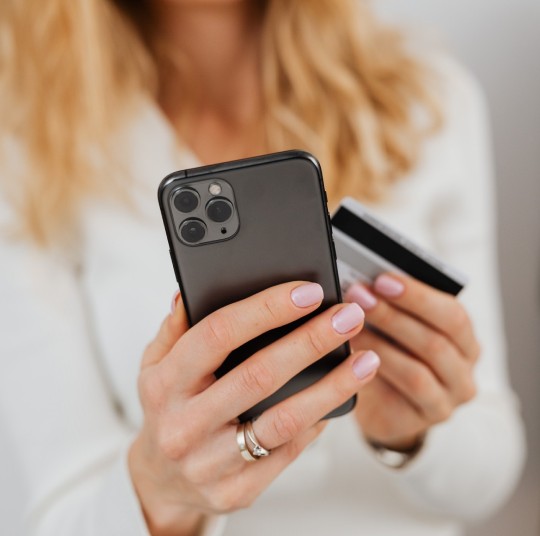 Most users make purchases on the Internet using mobile devices. This trend has intensified for a long time and will continue in the future. successful Sales depends is the company has a "shop in a smartphone".
Creating a mobile application for an online store for iOS and Android solves many important business tasks and is suitable for selling any goods:
clothing,
technology and electronics,
cosmetics,
food,
gifts, furniture,
building material.
Features of a mobile app for an online store
It doesn't matter what exactly and in what volumes you sell - the development of an E-commerce App is guaranteed to take your business to a new level. Online stores of any direction can take advantage of the benefits of automated online sales: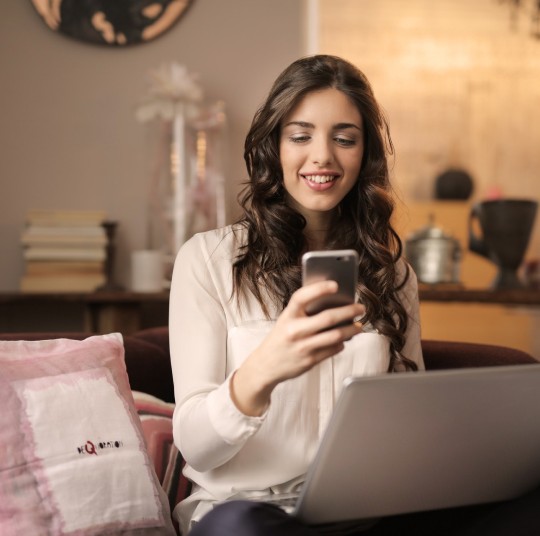 User-friendliness
High speed. Applications for online stores work several times faster than mobile versions of websites. Users appreciate the high speed of loading photos, fast scrolling, responsive buttons, and no freezes. At the same time, the number of goods is not limited, thanks to cloud optimization, high speed is ensured for stores of any size.
Convenient user interface. We develop interface design based on UI/UX principles. The application is attractive in appearance, pleasant, and easy to use. Users quickly navigate the structure, and intuitively find the necessary sections and options. A well-thought-out interface allows you to implement effective user scenarios and easily lead the client to the purchase button.
Easy product selection. The catalog in online stores allows users to find the desired product from hundreds and thousands of offers in a few touches. Various tools help in this – search, sorting, and filtering of product items.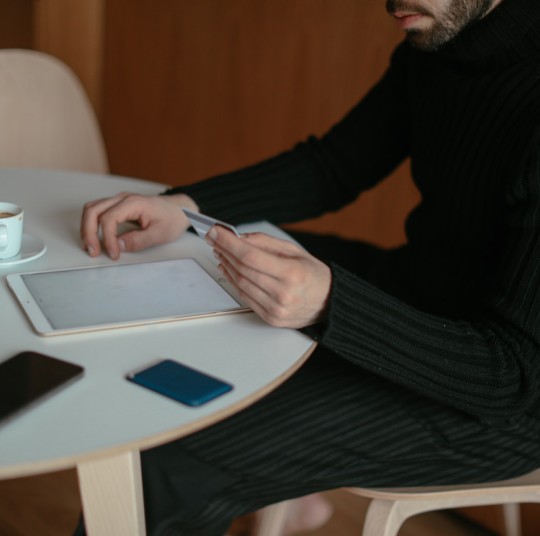 Automated order processing
The user makes a purchase through the basket, then the system automatically processes the order. There is the possibility of full automation, including online payment and tracking the status of delivery – this solution is relevant for trading platforms with a large amount of products.
Small online stores take orders through the cart and then send them to the manager for processing. Any of these scenarios we can implement in a mobile application.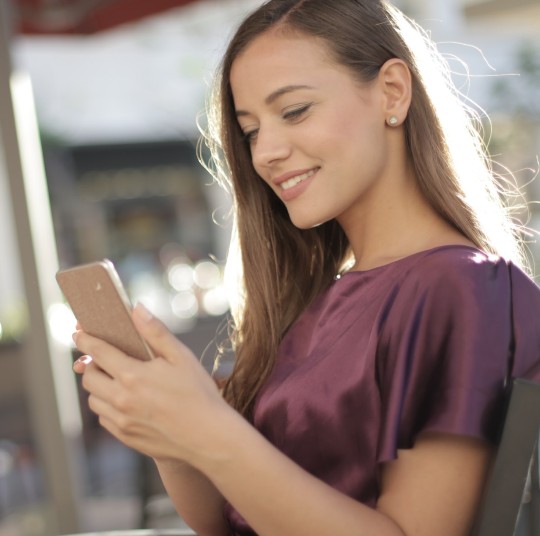 Convenient store management
The system has a convenient configuration that through the administrative panel you can perform the following actions with a few touches:
add and remove products;
set prices and discounts;
change the category of items;
adjust sections in the directory;
upload photos and videos;
create variable products with variable parameters;
moderate reviews;
publish descriptions and characteristics;
manage other content.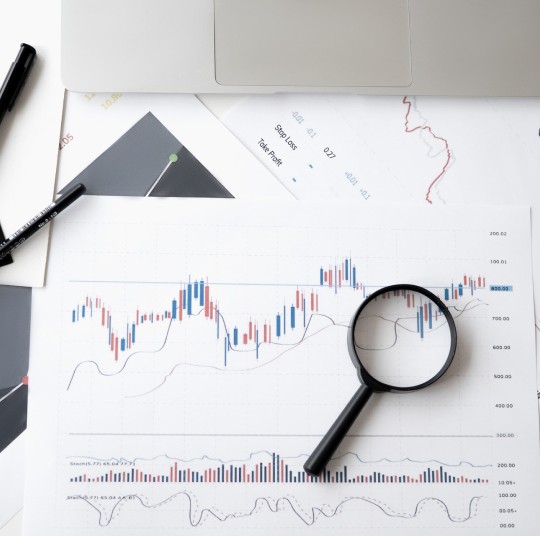 Statistics, reporting, analytics
If you decide to order a mobile application for a store, then you will receive useful analytical tools that will help you run your business. The admin panel of the application provides functions that allow you to collect and analyze order data, and generate reports on financial indicators. It is possible to track the number of downloads and visitors, the number of orders, sales statistics, user engagement, and behavioral factors.
Based on this, you can adjust the strategy, make changes to the assortment, optimize the catalog structure, work with weaknesses and strengthen strengths.
Why is it profitable to order a mobile app for E-Commerce

Process automation
Orders are accepted and processed automatically, it is possible to implement online payment functionality. The system does a maximum of work, manual operations are reduced to a minimum. This improves efficiency and speeds up the store.

Sales growth and conversions
A fast, convenient application with a structured catalog and wide functionality is a unique tool for attracting customers.
Up to 20% of visitors will become real buyers.
Up to 50% of them will return to the app for repeat purchases and are highly likely to become repeat customers.

Building audience confidence
Customers trust companies that have their own applications for online sales more. Loyalty programs that can be implemented in the application become an additional incentive.

Building a customer base
Buyers register in a personal account, the company receives the contact information of users and statistics on their orders.
There are many ways to benefit from this - send personal offers, make discounts and gifts, count bonuses, and invite users to participate in promotions.

Increasing competitiveness
The development of a mobile application for an online store will help you stand out from many competitors who do not have such a selling tool.
Mobile versions of sites do not replace the application, cannot provide such stability and speed of work, and are not so convenient for users.

Many promotional tools
Mobile development provides rich opportunities for product promotion.
Various types of advertising, SMM, offline methods, and many other technologies help to promote applications.
Application creation steps
Let's consider in more detail the stages of application development. Our team performs a full range of works:
1. We analyze competitors
It is important to offer the audience an application that will compare favorably with competing products. Before compiling the terms of reference, we analyze the design, structure, functionality of programs of a similar orientation. We take into account the mistakes of competitors in order to provide users with more opportunities.
2. Analyzing a niche
When developing an application, we take into account business goals and user needs. We make original decisions in design and functionality, but we act taking into account the trends that are relevant for a particular area.
3. Writing a technical task
TOR includes a detailed description of the structure, design, functionality, content of the mobile application. Each nuance is discussed in detail, agreed with the client and fixed in the terms of reference so that no unforeseen situations arise during the development process.
4. We create a unique UX / UI design of the interface
We follow the principles of Material design, work in the Android Studio integrated development environment, and ensure that the application strictly complies with Google requirements.
5. Designing
We carry out front-end and back-end development, create an administrative panel to manage the application. We inform the client about the intermediate results of the design, provide an opportunity to control and track the progress of the project.
6. Testing the app and publishing it on marketplaces
We check the operation of the program, identify errors, and promptly eliminate them. By the time of placement, we guarantee its well-coordinated work and the absence of failures. Our applications comply with the requirements of Google, so they are moderated without delay.
TECHNOLOGIES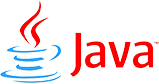 Cost of developing an app for online store
How much does it cost to create an application for an online store? This is one of the first questions we hear from clients. The cost of developing an application is calculated individually after analyzing the terms of reference and depends on many factors:

Application purpose
What tasks should the program solve, for what purpose it is created and how much it affects the business.

Functional complexity
What options should be available to users, whether it is necessary to provide for further expansion and scaling of the product.

Design requirements
Whether it is necessary to use complex animated objects, 3D graphics, unique design elements.

Time of work
How quickly you need to implement the project, how many employees need to be involved in the development.
Complex applications are created by a team of experienced specialists, each of whom takes on a separate type of work. The cost of such products increases, but the investment pays off with a high-quality result - the client receives an application that helps to run a business and makes a profit. But not always there is a need for significant costs. For many tasks, simple budget solutions with a minimum set of functions are sufficient. Which option do you need and how much will the development cost? Send a request, we will make a preliminary calculation and orient the price.
Order app creation
Do you want to develop business,
increase profits, attract more target audience?
The Android mobile app will help you achieve these goals!
Functionality of a mobile app for an online store
If you are thinking about where to order the development of a mobile application for E-commerce, please contact the KitApp studio.
The app will perform the necessary tasks
We launch the project only after a thorough preliminary analysis: we study competing products, the business niche, and the characteristics of the target audience. This approach allows you to take into account specific nuances and create an application that will work for the result. During the analysis, we find the best solutions that guarantee the success of the application.
You will receive a turnkey app
From the first discussion of the concept to the placement of the finished application on Google Play, all stages of work are carried out by one team using the flexible scrum development methodology. Thanks to competent planning, the observance of the project deadlines is guaranteed.
You will be pleased with the price
Great professional experience allows us to optimize the cost of developing a mobile application for Android. Using modern methods and technologies, we reduce the time for writing a program and create a high-quality product with a loyal pricing policy. This is one of the important advantages that distinguishes us from our competitors.
We will provide technical support
After placing the application in the store, we do not stop cooperation with the customer. We provide a full range of technical support, track errors and quickly fix them, respond to user requests regarding the application's performance.
The app will develop according to your scenario
Any mobile product requires periodic updates - adding functions, applying more modern solutions, improving the technical component. The application must always be up-to-date, effective and meet the requirements of the time - all these concerns are also taken over by our studio.
We are waiting for your applications, we will be happy to discuss the project and offer the best solution for the implementation of your ideas. In cooperation with experienced specialists, you will receive not just a high-quality Android application, but a tool for business development and profit.
Fill in a brief
Process automation and API connection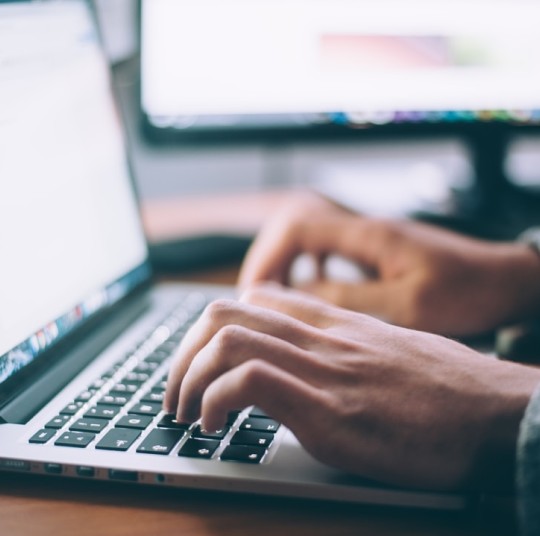 Automatic pricing and warehouse
For online stores, we can develop the possibility of automated work with a large volume of commodity items.
Price calculation. The functionality of the mobile application allows you to set up automatic pricing depending on the exchange rate, the selected margin, or other factors.
Loading products. With the help of the parser, we can automatically download a large range of products and, if necessary, update the catalog without time-consuming manual operations.
Availability in stock. The system can track the quantity of each commodity item in the warehouse so that the availability information is always up to date.
Admin panel and API
The store you will manage through a convenient administrative panel (dashboard). The tool allows you to perform any actions with products, manage settings, process orders, work with content. The integration of a mobile application with an existing product accounting program or an Internet site we perform using the API. For example, the restaurant food delivery application we can synchronize with an existing automation system that is used in the establishment.

Communication with buyers
Application users can get feedback via online chat – ask a question, consult, or report a technical problem. For the seller, this is a great opportunity to quickly respond to requests, and understand the current needs of the audience in order to improve the service.
Portfolio
We successfully create native mobile applications for various types of businesses in Ukraine, the CIS countries and Europe. You can get acquainted with our work on the development of projects for online stores of various subjects.
WHY CHOOSE KITAPP STUDIO
EXPERIENCE
IN MOBILE DEVELOPMENT SINCE 2014
MORE THAN 50
COMPLETED PROJECTS
Our studio has qualified and experienced developers: project managers, designers, frontend specialists, backend developers, testers. Together we create functional mobile apps for iOS and Android.
APP COST CALCULATOR
PLATFORM
Choose a development platform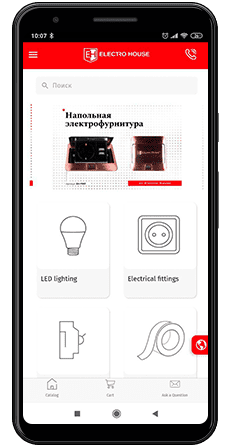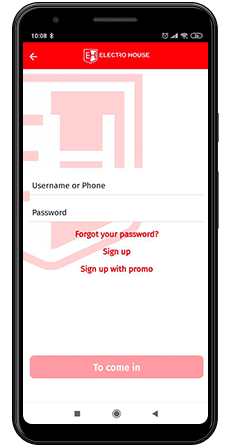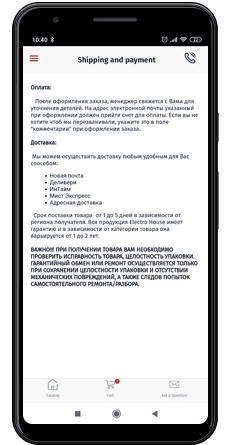 BASIC FEATURES
Depending on the specifics of e-commerce, the first screen of the application may have a brand presentation visualization, store information, user registration, or an authorization offer.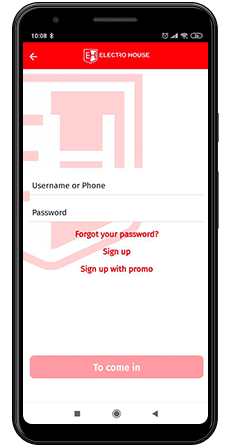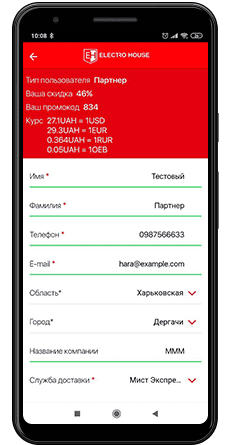 PERSONAL ACCOUNT
An online store with a personal account gives an advantage to users. The profile has a history of purchases, payments, Push notifications for the client. The user's personal data, payment data, is automatically added to each order. Customers of the online store will appreciate the convenience of such functionality.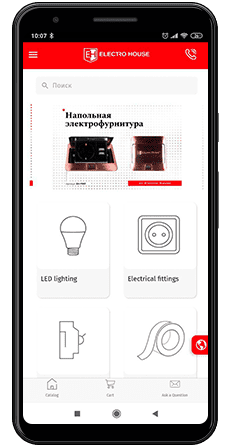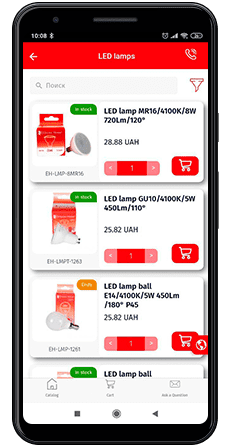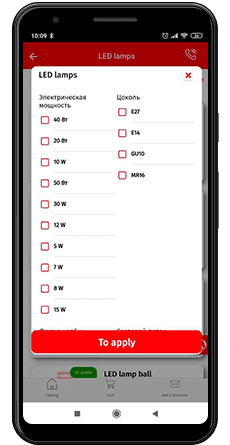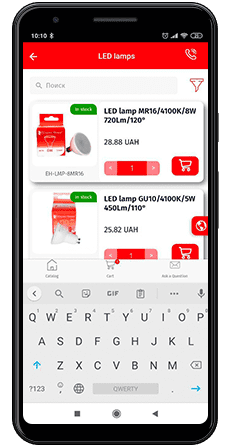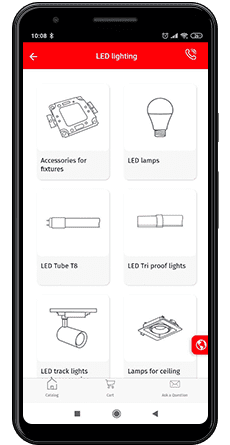 CATALOG OF GOODS
A product catalog may include:
different directory levels – subcategories display,
product card,
search in the catalog,
filter and sort by different parameters for convenient selection.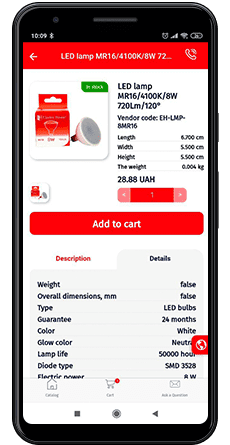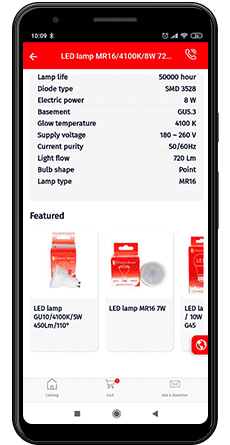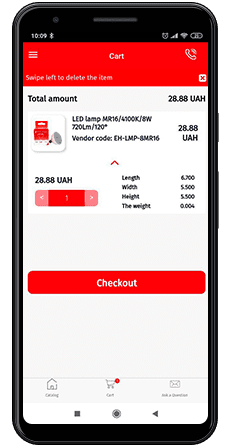 SCREEN OF GOODS
The product card can contain different parameters and functions:
images, image gallery,
price, share price,
description and characteristics,
product rating,
user reviews.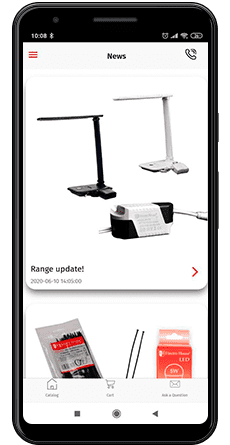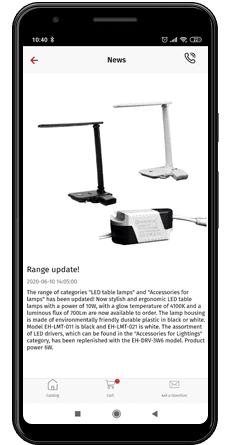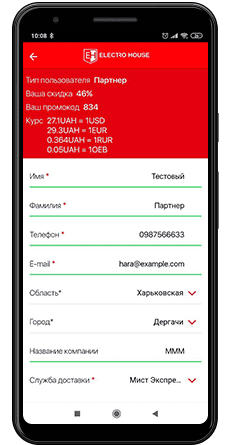 PROMOTIONS AND NEWS
Promotions and news can be a list or separate screens. You can connect Push notifications to inform users about the current offers of discounts and promotions. We can develop a loyalty system to increase audience interest in using the application.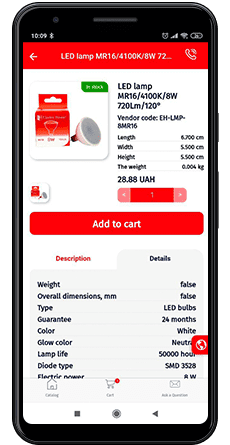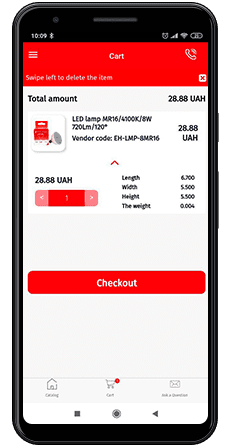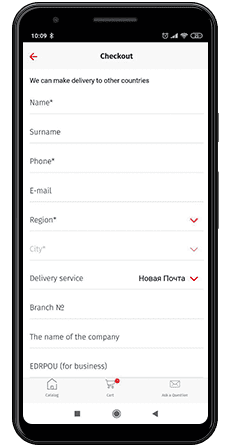 ORDERING GOODS
The order of goods can be implemented without payment for order processing by a manager, for example, or with the integration of the payment system. Connecting Push notifications will inform the client about the receipt of payment and order processing. The user's personal account can show the history of orders, payments, communication with the manager, selected products or favorites, and other items as agreed.
STOCK AND PRICING
In order to conveniently and simply manage the online store application, you need automatic recalculation of the cost of goods at the exchange rate, price calculation with a store markup, etc. The parser for loading / unloading goods will update the product range, its quantity in stock. The functionality of the warehouse will help keep track of the availability of goods for sale.
ADMIN PANEL & API
Admin panel for assortment management, order processing, interaction with customers. If the store uses inventory programs and/or a website, we can implement mobile application integration via API.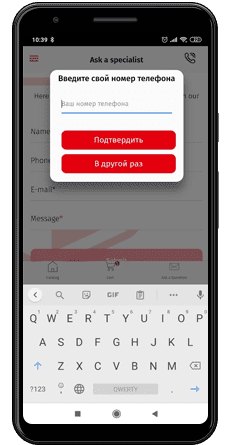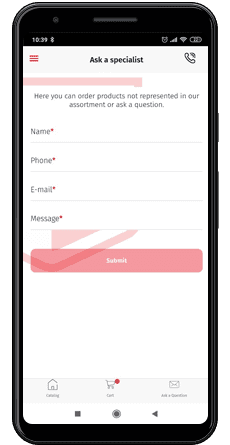 CHAT WITH THE MANAGER
For effective communication and customer support, it is important to implement tools such as chat with a manager and online forms. The history of chats with users and the list of requests, data on the processing of applications can be saved and tracked in the manager's account.