PetsHealth App
Mobile application for pet owners.
Development for iOS and Android.
Terms of project: 1.5 months.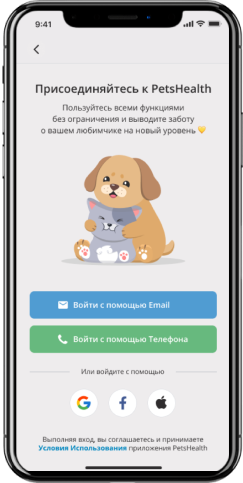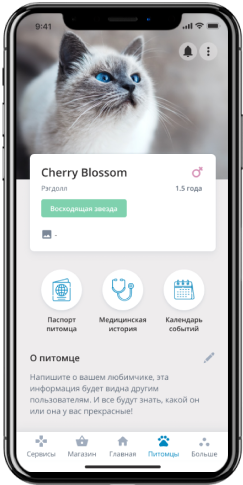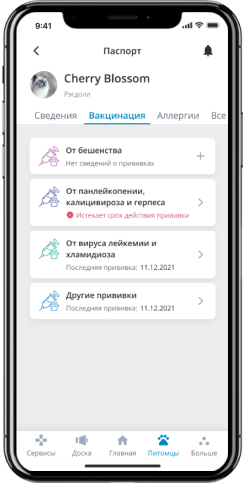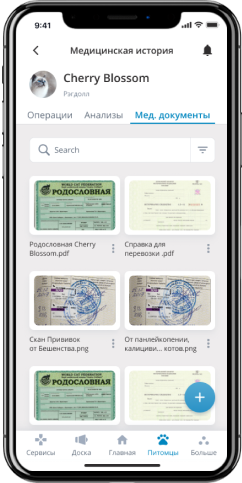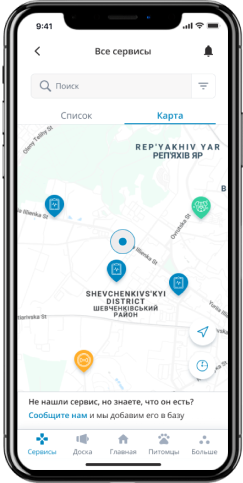 PETSHEALTH APP - THE APP FOR PET OWNERS
The PetsHealth App brings together several services that make it easy to organize the right care for your pets. By installing one mobile application, the owner gets a lot of useful tools – from storing documents to searching for services. Everything you need is always at hand: important information, task scheduler, service directory, and much more. You can use the application from any gadget – a smartphone or tablet based on iOS and Android.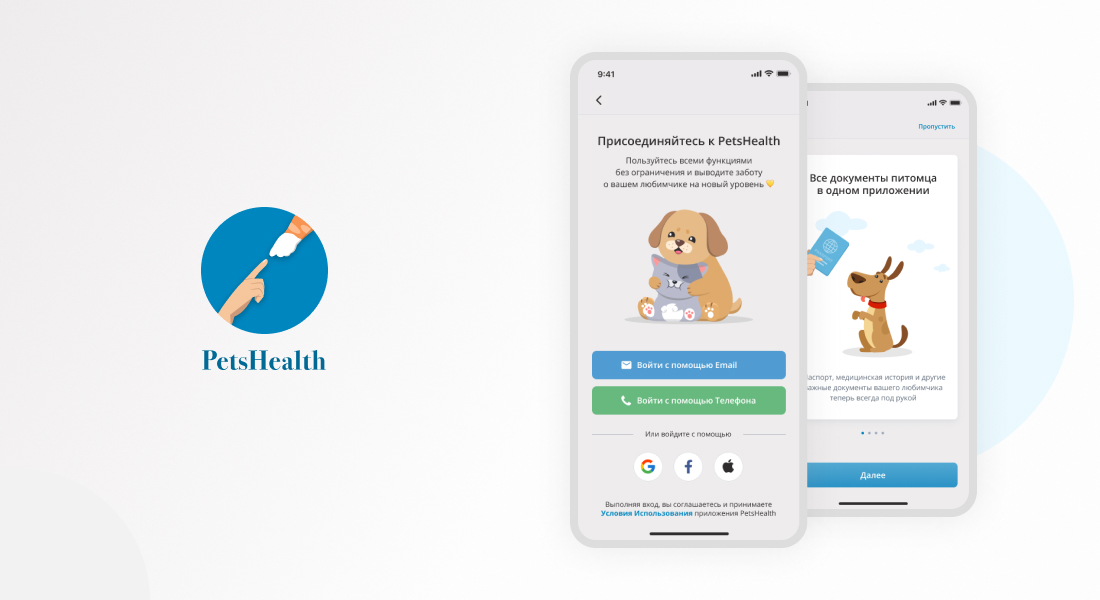 User interface
Our task was to create a user-friendly application that would not only perform its functions well but also give users positive emotions.
We've given careful attention to this aspect:
we created a simple application structure so that people do not get confused in the sections and easily find the necessary options;
developed a visually attractive, user-friendly interface based on the principles of UI/UX design;
thought over the style, picked up an unobtrusive color scheme;
created original interface elements – buttons, icons, menu items, and animated effects.
As a result, the application interface is really user-friendly.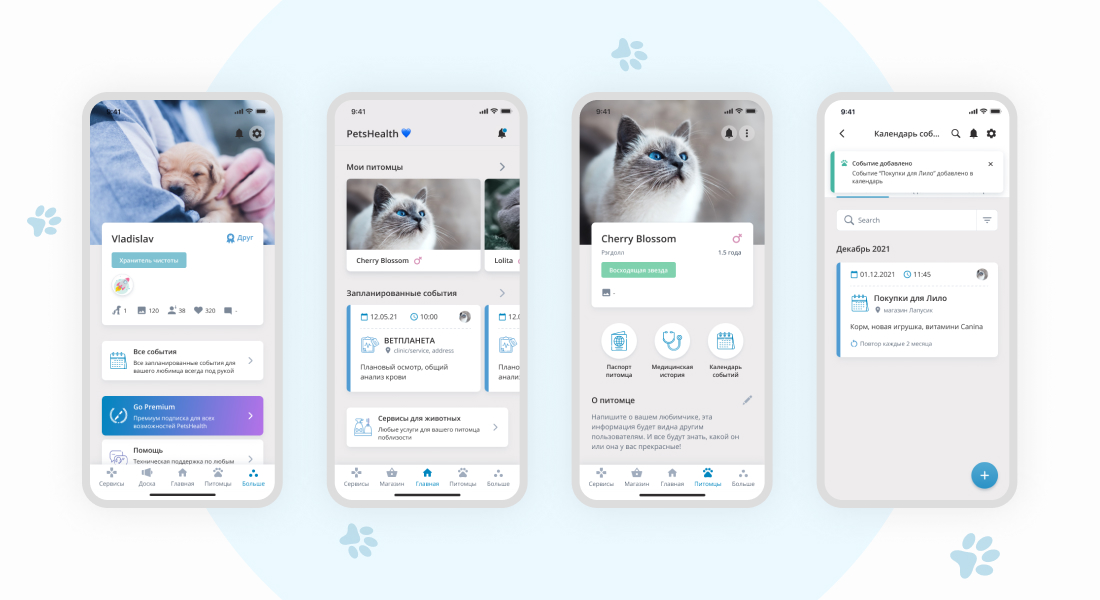 Functionality
The PetsHealth App mobile application provides users with a wide range of options. When working on this product, we tried to cover as many issues that pet owners face in everyday life. Let's consider the main sections of the application.
Pet page
The main page contains all the information about the animal:
photo;
nickname;
gender and age;
online passport;
medical documents – vaccination card, test results, treatment history, data on allergic reactions.
If there are several pets, a separate page is created for each of them. Online documents are always available, they can be used when needed – and for this, you do not need to carry a pile of papers with you.
Services for pets
This section contains a list of services by category:
Veterinary care – a list of clinics and specialists with the possibility of making an appointment for a consultation.
Grooming – pet care services.
Training and education – cynologists, zoopsychologists, trainers, animal walking services.
Zoo hotels – a list of places for temporary overexposure of pets, contacts of volunteers.
Shelters – addresses of public and private shelters located in the desired location.
All services – a section that combines services of all categories.
The locations of clinics, salons, zoo hotels, and other establishments are presented in a separate tab on the map. Search on the map allows you to quickly select the desired object.
Events calendar
The user maintains a calendar of events related to keeping a pet in the application. The task scheduler allows you to structure everything so that you don't forget or lose sight of anything. The app sends notifications to your device to remind you of upcoming events. Each task has a date and time. Events are divided into three tabs:
scheduled tasks that need to be solved in the future – for example, visiting a veterinarian or buying a toy for a pet;
рregular tasks that need to be performed at a certain frequency – monthly, weekly, etc.
past – a complete history of events for the entire time the application was used.
Thanks to a simple and convenient tool, the owner will not forget about important matters – vaccination or grooming, visiting a clinic, or a pet store. The user can find a suitable institution in a couple of touches, immediately make an appointment, schedule an event on the calendar, and set a reminder. No need to keep a large amount of information in your head, take notes, and use different sources to search for services – the PetsHealth application solves all these tasks in a comprehensive and centralized way.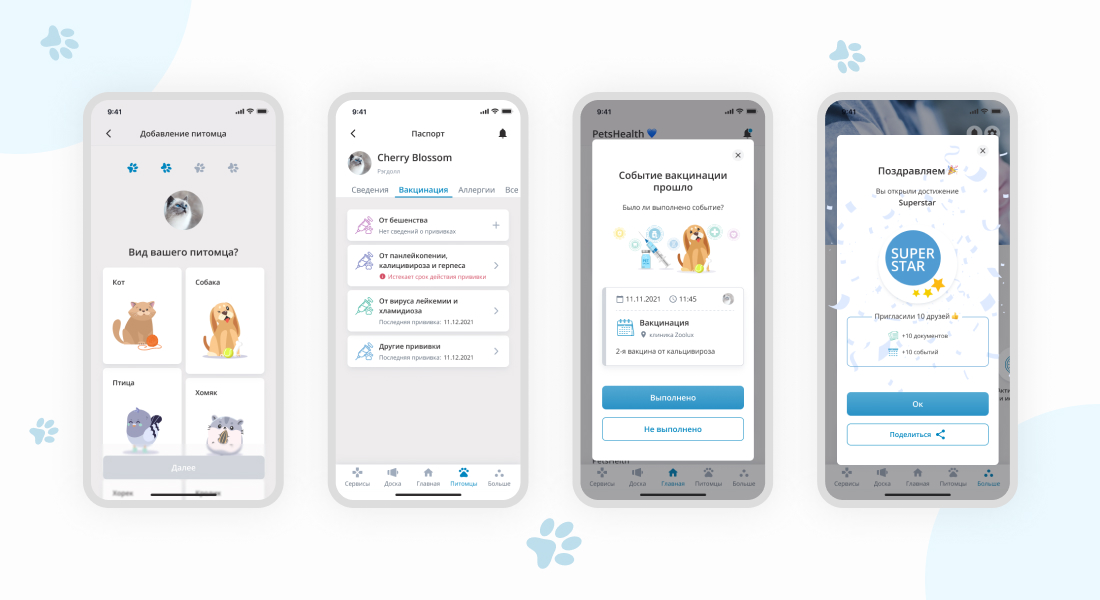 The process and result of mobile application development
KitApp team of specialists implemented the project from scratch and turnkey:
We made an analysis of a case, and learned the needs of the target audience.
We came up with a concept that takes into account the peculiarities of caring for pets of different types and the specifics of their content. The main goal is to help the owner cover the maximum of urgent tasks.
We developed a structure and created a design and an usable interface.
Performed programming using modern solutions for iOS and Android.
We placed the application in the App Store and Google Play stores for downloading to any gadgets.
The PetsHealth mobile app gets high ratings and is well-deservedly popular, outperforming competing products in many ways. But we do not stop there – we are constantly developing the application, improving the design, improving the functionality.
TECHNOLOGIES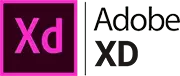 WHY CHOOSE KITAPP STUDIO
EXPERIENCE
IN MOBILE DEVELOPMENT SINCE 2014
MORE THAN 30
COMPLETED PROJECTS
Our studio has qualified and experienced developers: project managers, designers, frontend specialists, backend developers, testers. Together we create functional mobile apps for iOS and Android.
HOW MUCH DOES
THE DEVELOPMENT COST?
The development cost depends on the complexity of the project.
Contact us to get the cost of creating an application!