CountDown to App
Mobile application for tracking the release of new films.
Development for iOS and Android.
Terms: 1.5 months.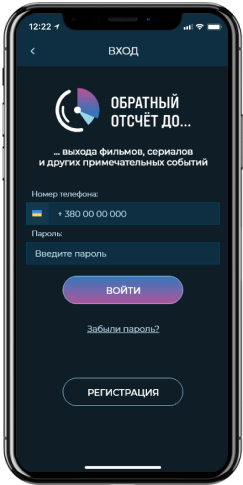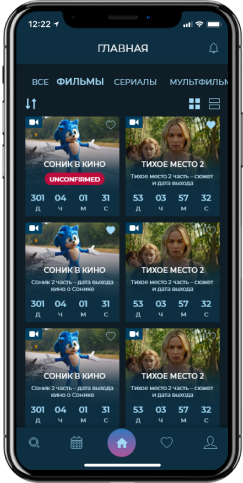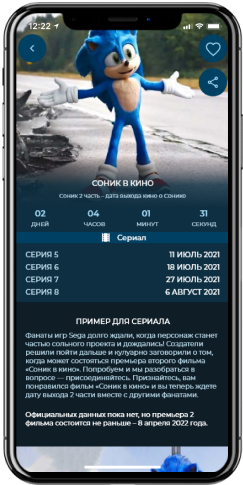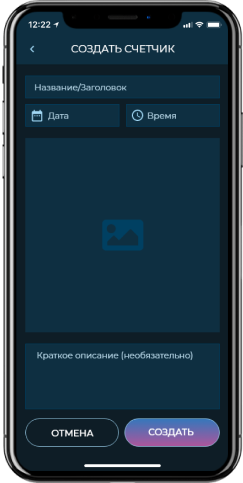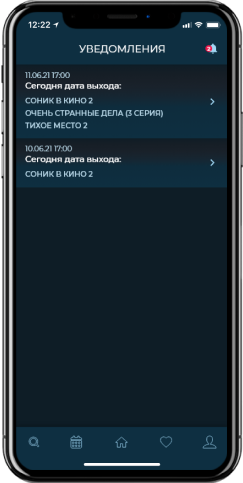 CountDown to
"CountDown to" is a mobile application for those who enthusiastically follow the release of new films, cartoons, anime, games, and series. A simple and convenient tool allows you to keep track of new releases and set a countdown to premieres. The counter shows how much time is left to the nearest second, so as not to miss the long-awaited event.
How does it work? Browse the catalog, select your favorite films, games, TV shows, cartoons – add them to your favorites, start the counter and receive a notification about the premiere at the right time. The CountDown to mobile application is available to users of Android and iOS smartphones and tablets.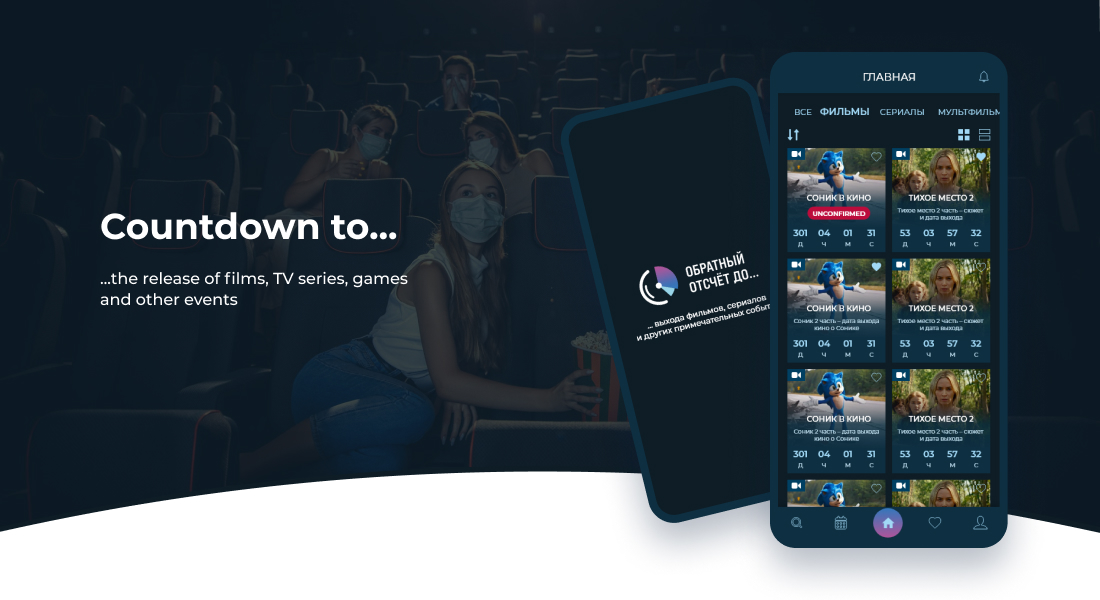 Functionality of the mobile application CountDown to
Catalog. The main screen displays a list of movies, series, cartoons, and games. The user can choose the way of placement in the form of a tile or a list. Each material shows a time before its release. The format is days, hours, minutes, and seconds.
Material page. When you click on an object of interest, an individual page opens with full information – a text description, trailer, premiere date, counter. Serials have the release date of each series. It is possible to add an object to favorites or share it in instant messengers.
Favorites. Users can collect liked materials in favorites. One-touch – and the object moves to a special section with access at any time.
Calendar. The user selects a day and gets a complete list of all the new releases on that date – a useful option for those looking for something to do in their free evening.
Alerts. The application notifies you of upcoming premieres. Users get alerts to their devices and will not miss an important event.
Search. You can find a movie, game or cartoon by name using the search bar.
Creating a counter. If a movie is not present in the application, you can create a timer for it manually – specify the date and time, enter a short description, and add a photo. This option is applicable not only for movie premieres but also for any other events.
Topics. The user can choose a light or dark theme to match the app's interface to the mood.
Registration and authorization. You can get full access to the functionality of the mobile application after registration and authorization by phone number and email.
Personal profile. Profile information, personal data, and user settings. Users can change the password, choose the frequency of notifications, choose the language and theme, and connect push notifications and sound. You can also write support from your personal account – report an error in the application or suggest a new movie to the collection.
Admin panel. Admin can add new counters and categories, as well as view the data of registered users.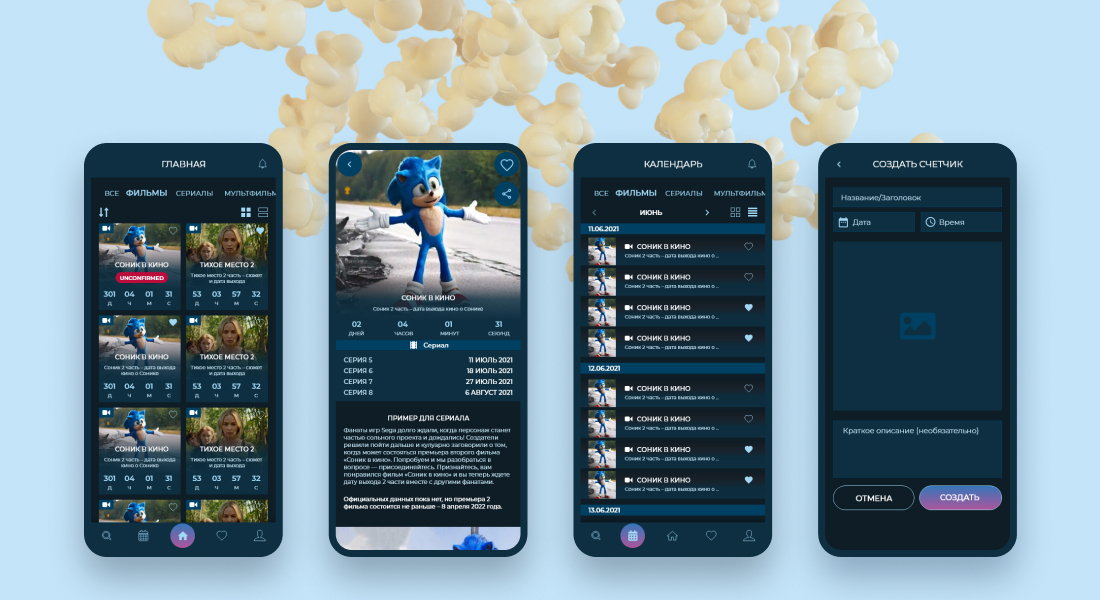 Why "CountDown to" is popular?
"CountDown to" is a mobile application for leisure and entertainment, but with its help, users solve clear practical problems:
structure a large amount of information so as not to get confused in the dates of the premieres and not to miss important events;
receive reminders about the release of new episodes and seasons, which is especially important for real moviegoers;
find upcoming premieres, get acquainted with new products, and plan viewings;
create their own database of new products that are mandatory for viewing;
make your hobby even more fun.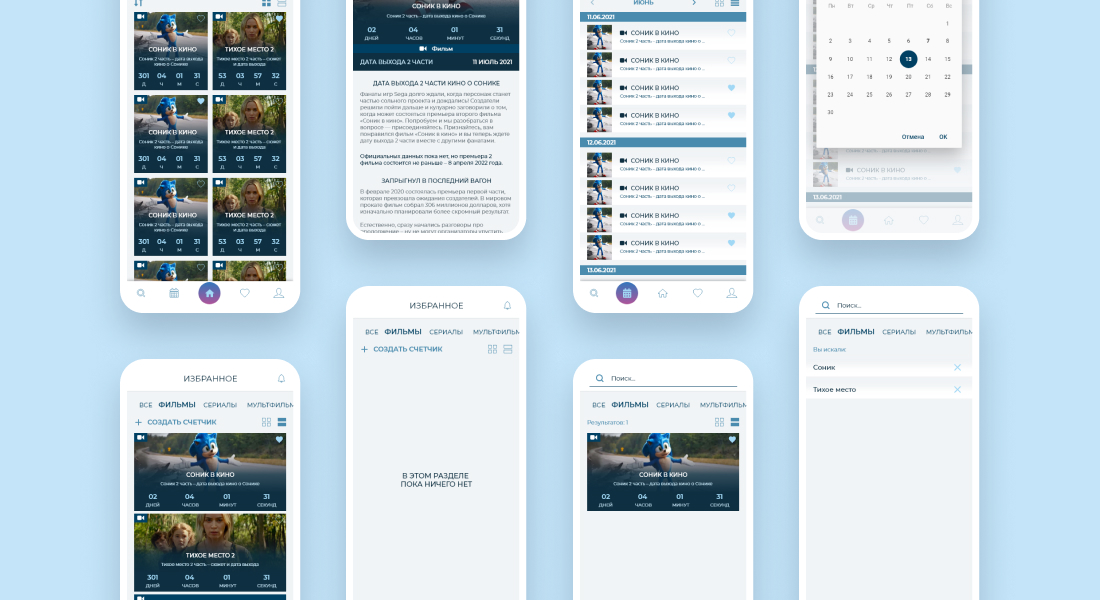 Development of a mobile application CountDown to
KitApp studio developed "CountDown to" mobile application on a turnkey basis – from the project concept to placing a finished product in the App Store and Google Play. Our task was to create an easy and convenient interface, a simple and understandable structure, and optimal functionality.
We paid great attention to the ergonomics and speed of the application.
We worked out the style of icons and buttons so that when working with "CountDown to" people get only positive emotions.
We developed the architecture, used the latest software solutions, and ensured the smooth operation and high speed of the application.
In the administrative part, we provided the possibility of regularly updating the base of new products.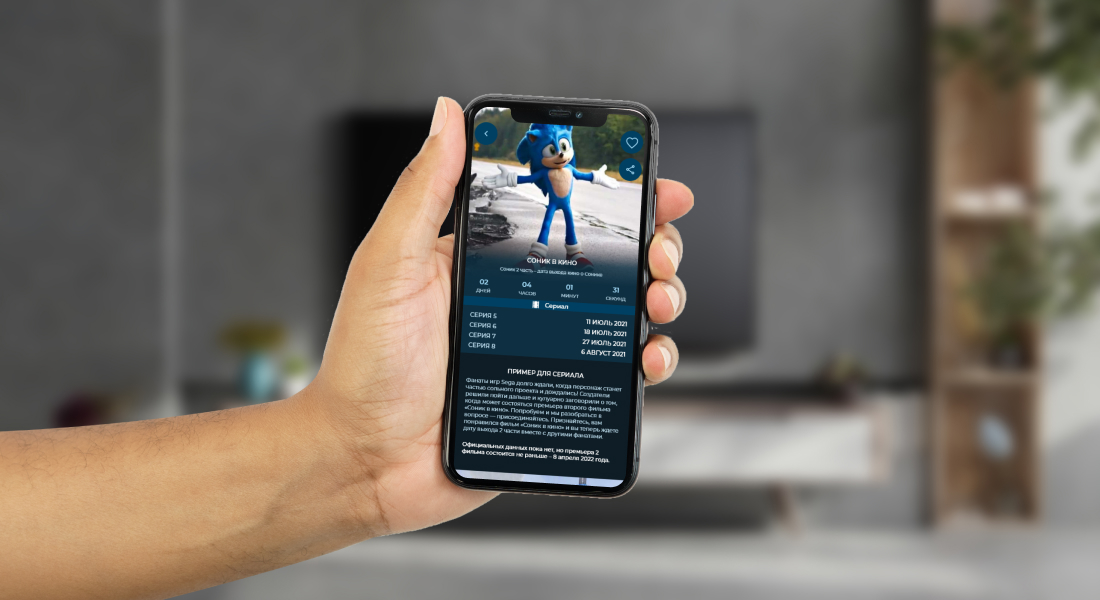 The result of our teamwork is a convenient and useful mobile application. Now mobile app is gaining momentum in popularity and increasing the number of downloads. We provide technical support, plan to create paid subscriptions for premium users and work on other updates to best meet the needs of the audience.
TECHNOLOGIES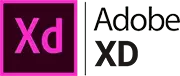 WHY CHOOSE KITAPP STUDIO
EXPERIENCE
IN MOBILE DEVELOPMENT SINCE 2014
MORE THAN 30
COMPLETED PROJECTS
Our studio has qualified and experienced developers: project managers, designers, frontend specialists, backend developers, testers. Together we create functional mobile apps for iOS and Android.
HOW MUCH DOES
THE DEVELOPMENT COST?
The development cost depends on the complexity of the project.
Contact us to get the cost of creating an application!