Online training mobile app

539

03-04-23

Read Time:

7

min
Today there is a huge demand for distance learning – online courses, trainings, marathons, intensives from schools and coaches in a wide range of areas such as foreign languages, business, IT, commerce, marketing, finance, management, psychology, creativity and much more. For a training project to be successful, it is not enough to have good professional content – it is important to implement the technical component of the product in a high quality way.
The first generation of online training took place on websites, but this is not always convenient for an active modern person with a fast pace of life. People need a tool that allows them to learn in their spare time, anywhere, anytime, without being tied to a desktop or laptop. A mobile application is such a tool. Here are its main functions:
serves as a convenient technical tool for teachers to teach and students to learn online – and for them all to communicate with each other;
serves as a convenient technical tool for teachers to teach and students to learn online – and for them all to communicate with each other;
Makes training available on your smartphone;
Performs a marketing function, helping to develop the business and make a profit.
Functionality of the mobile application for online training
Any format of lessons and training materials
Live lessons. The mobile app allows you to conduct live video lessons individually or as a group without any additional third-party programmes.
Videos. Not only can you upload high-quality, ready-made videos, you can also edit them, add effects, text and transitions to create compelling content. Videos can be uploaded as a file or via a link..
Conferences. The mobile learning app lets you organise group videoconferences, connect different numbers of participants, communicate as a group or in a student-teacher format.
Save online lessons. Live lectures can be recorded, saved and replayed for users.
Presentations. Presentations and illustrations can be broadcast in high quality images and text during the lesson.
Handbooks. The database contains reference materials, electronic versions of manuals and textbooks. Access is provided according to the curriculum.
Diaries, notes, calendars. Special modules are built into the app's functionality to simplify learning and make it more comfortable and efficient.
Evaluation automation
Testing. Online tests can be used to determine how students have learnt the material. The functionality is automated:
The system checks the answers and calculates the points;
The results are sent to the student and the teacher;
Points are added to the overall score;
You can set a timer to complete tasks with a time limit;
You can set a minimum pass mark;
You can group questions by level of difficulty.
Homework. The teacher sends the homework, the students submit it using a special form. The result of the test is displayed in each user's profile: the students see their grades and comments, the teacher sees the statistics of the grades of all the students in the course.
Personal profile. Upon registration, a user's personal account is automatically created. Students view their learning progress, class schedule, completed and upcoming lessons, tutorials, grade statistics, tests and other options necessary for learning. The teacher profile displays a list of students, test results, grades, statistics and settings.
Diplomas and Certificates. At the end of the course, the student receives a certificate generated by the application with the ability to print.
Feedback and communication
Push notifications. The system sends notifications to users about new lessons, next classes and special offers. Students and teachers can customise notifications and set reminders so they don't miss important events.
Customer database. Student data is stored in a database that can be used for commercial purposes – to send invitations to new courses, to offer discounts and bonuses.
Feedback. Teachers and students have all the tools they need to communicate – chats under online broadcasts, individual and group chats, consultation forms, voice and video communication.
Finances
Online payment. The app can be integrated with online payment systems, allowing users to pay for courses quickly and securely from anywhere in the world. Such functionality increases the convenience and attractiveness of the product to the target audience.
Paid features. When launching free courses, certain content (features, purchases, levels, materials, subscriptions) can be made payable in order to monetise and profit from the project.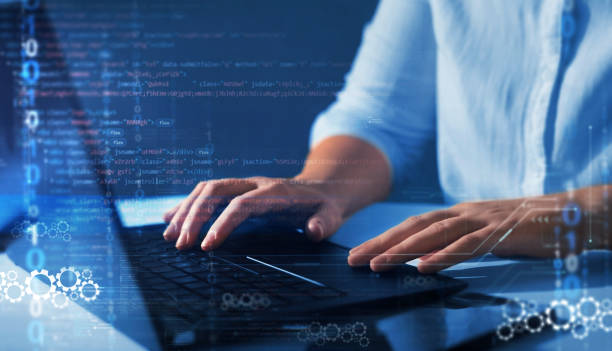 Benefits of an online course application
Adaptation to different educational programmes
The functionality of the application is determined individually according to the content, structure and scope of the educational programme, the teaching method and the characteristics of the target group. The functionality can be both static and more flexible, allowing for
Create a unique structure with any level of nesting;

Combine lessons into modules;

Open access to classes consistently according to the plan;
Customise the structure, add and edit sections;
Update text and video content;
Customise the schedule and format of your classes;
Publish new tests, quizzes and surveys;
Change theme and content – colour scheme, title, description, images;
Launch new projects.
This option is suitable for online schools where the training programme changes and scales dynamically, with new course areas appearing regularly.
User-friendly user interface
The app serves as a single platform for teachers, students and administrators to work together. Each party has their own comfortable interface with personal settings (design theme, notification format, language, etc.).
Teachers teach classes online, upload lesson content, grade students, and check homework.
Students attend classes in a variety of formats, take tests, and track their progress in a personal account.
Administrators work with content, settings, reports and projects. There is a dedicated administration panel.
Customisable access levels
Each student has access to learning materials according to their paid package: they enjoy a personalised schedule, receive personalised suggestions and are taught according to a plan of their choice. Teachers also have their own access levels according to their work plan and schedule.
Implementation of loyalty programmes
The app allows users to send personalised offers, invite them to new levels of training or a different course, notify them of discounts and current promotions, earn bonuses and give gifts for various achievements or events.
Safety and security
The latest mobile development technology provides a high level of security for the storage of sensitive data. The database of training materials is protected from hacking and unauthorised distribution, so intellectual property is completely secure. Only the owner and trusted persons have access to customer contacts, and access to the application can be set up according to your choice: by password, graphical key, fingerprint (or faceID), SMS confirmation.
Accurate statistics and analysis
The application's functionality allows you to automatically calculate various statistical indicators – grades, training hours, number of students, user activity, test results and much more. There are also statistics on new registrations, customers, transactions and sales. Reports are generated automatically without the need for time-consuming manual data entry.
Effective promotion
By using different technologies to promote mobile apps, it is possible to directly promote the product itself – attracting new users, increasing brand awareness and bringing back former students. The app becomes not only a technical tool, but also a marketing tool.
Ability to synchronise with website and third-party services
If the online school has its own website, it can be synchronised with the app. The two platforms work in sync, so changes in the app are reflected on the website – and vice versa. Teachers and students can access the system from any device: the website from a PC or laptop, the app from a smartphone or tablet. Integration with other third-party software is also possible – CRM, e-payment systems, chatbots, email newsletter services, via API queries.
Unlimited scaling
The mobile app allows you to store any amount of training material, connect any number of users (students and teachers) and scale the project to meet growing business needs. If new functionality is required along the way, it can be added as part of the next update. This makes the mobile application a multi-functional, versatile and flexible tool, built exclusively for the needs of a specific online school.
Order a mobile app if you want to solve several problems in one step – provide a technical component for online training, get a tool to promote your product online, build customer trust and get ahead of your competitors.
Опубликовано: 03-04-23